NEWS: Environment and Sustainability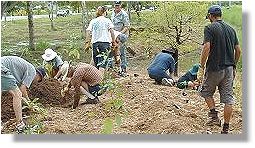 Community Greening events and photos

Greening Townsville 2003 to 2006, provided Community Tree Days in many neighbourhoods.
Get involved at the next community greening event.

Environmental Events: Get Involved!

Environment and Sustainability Programs, Resources & Initiatives
2003 - 2008:
[Click to see more program summary banners]
Townsville SOE is also a source of images that capture the diversity and the colours and textures of the dry tropics.The images used throughout the report were captured in the Townsville Local Government Area and are part of the Townsville City's Natural Assets database.Working in Partnership with the Community Towards Sustainability.

Sustainable Townsville © 2003